Health & Fitness
Pure Health
Pure Health at the MetCentre supplies a full range of practitioner products as well as a well stocked herbal dispensary.
Pure Health offers discounted pricing on Blackmores, Natures Own, Natural Nutrition, Bio-Organics, Pretorius, Nutralife, Herbs of Gold, Quick Cleanse Detox Products, Skin Doctors, Naturopathica, Green Medicine and most other brands.
In-store Naturopath available everyday for dispensing Practitioner only products, such as; herbal tinctures, homoeopathic, and Bush and Bach Flower remedies. Authorised stocklists of Dr. Hauschka Skin and Body care ranges.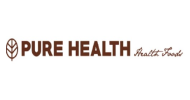 Pure Health Trading Hours
Monday - Friday
7:30am - 6:00pm
Pure Health - Stores | MetCentre