Fresh Food & Liquor
Lamb and Harissa Burgers by Matt Sinclair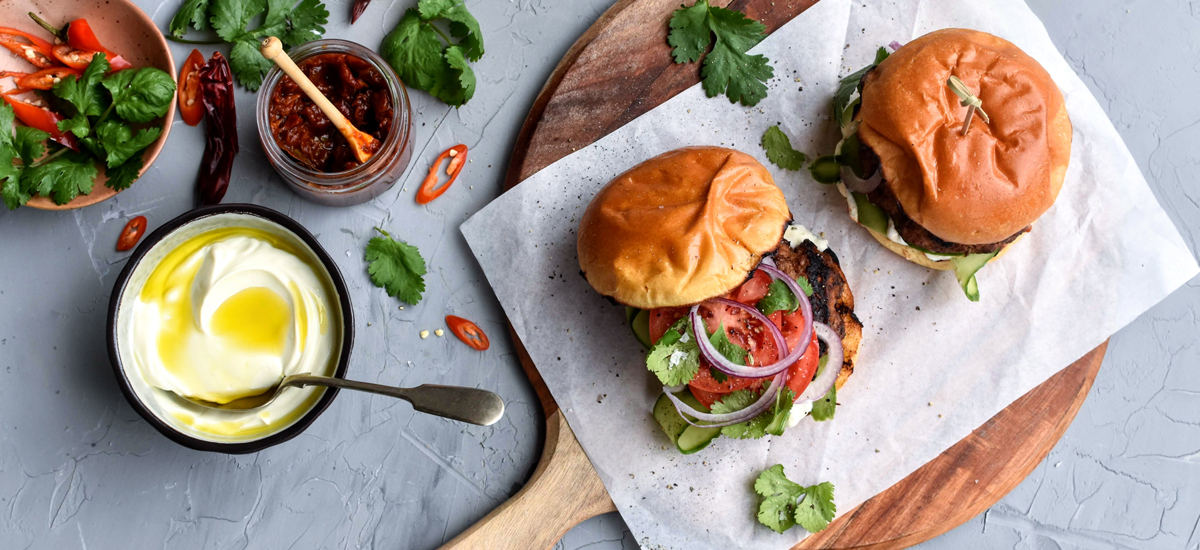 1 kg lamb mince
1/3 cup harissa paste (harissa is spicy so feel free to increase or reduce this amount)
1 small brown onion, diced
2 tbsp. ground cumin
Extra Virgin olive oil
8 brioche buns
8 slices swiss cheese
8 slices tomato
1 Lebanese cucumber, sliced into ribbons
1 small red onion, thinly sliced
½ cup Greek yoghurt
Tomato relish (I used Beerenberg)
Coriander leaves
Method
1. In a large bowl add the lamb, harissa paste, onion and cumin. Season with salt and pepper. Mix well to combine all ingredients together. Divide into 8 equal portions and roll into patties. Set aside and allow to come up to room temperature before grilling.
2. Heat BBQ on a high heat. Lightly oil each lamb patty and grill for 3 minutes on each side (depending on how you like them cooked). Take off heat, top each patty with a slice of cheese and allow to rest while you toast your buns on the BBQ.
3. To assemble, place a dollop of yoghurt on the bun base, top with lamb burger, tomato, cucumber, onion, relish and coriander leaves. Top with brioche bun lid and serve immediately.



INSPIRATION
Check this out