Food & Drink
Turmeric Rice with Spiced Lamb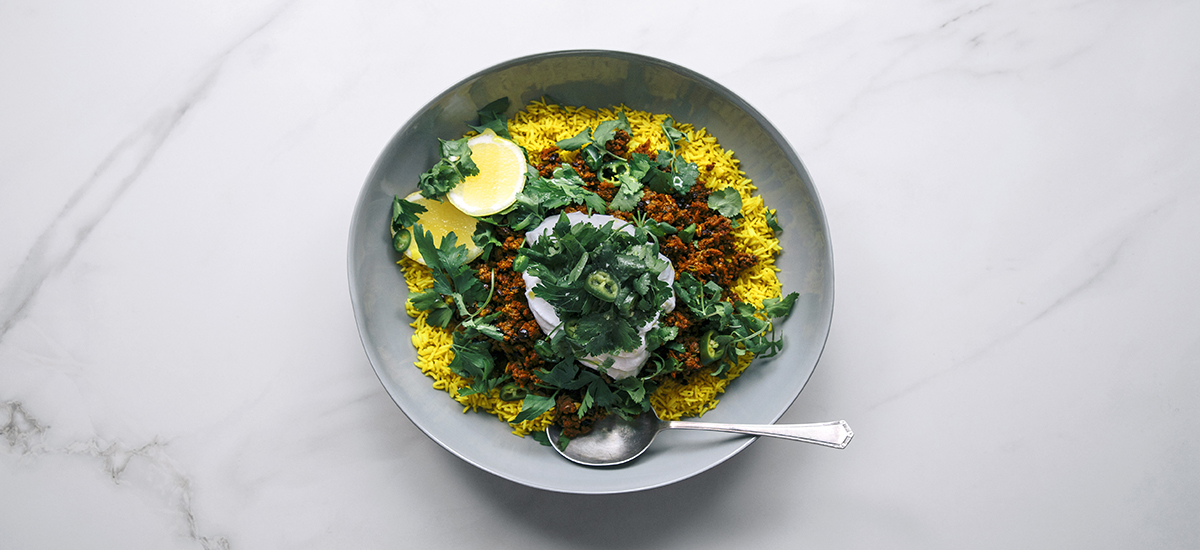 Ingredients

Spiced lamb
1 tbs ghee, butter or olive oil
1 red onion, finely chopped
4 cloves garlic, peeled and finely chopped
1 tbs freshly grated or finely chopped ginger
1 tsp ground turmeric
A pinch of freshly ground black pepper
2 tbs smokey paprika
A pinch of chili flakes or ½ fresh red or green chili finely chopped
1 tbs ground cinnamon
1 tsp ground cumin
1 tbs coriander seeds, crushed in a mortar and pestle or roughly chopped (or use already ground coriander seeds)
1 carrot grated
1kg lamb mince, or lentils for a vegetarian option
1 bunch coriander finely chopped, including stalks
1 bunch parsley finely chopped, including stalks
1 tbs tamari or soy sauce
¾ cup currants
Zest of one lemon
1 tbs flaked sea salt
Turmeric rice
2 cups cooked basmati long grain rice (or finely chopped cauliflower for a 'carb free' version)
1 tsp ghee, butter or olive oil
1 tsp turmeric ground
A little freshly ground black pepper
Pinch of sea salt to taste
To serve
Natural unsweetened greek yogurt or natural unsweetened coconut yoghurt
Fresh coriander and parsley leaves for garnishing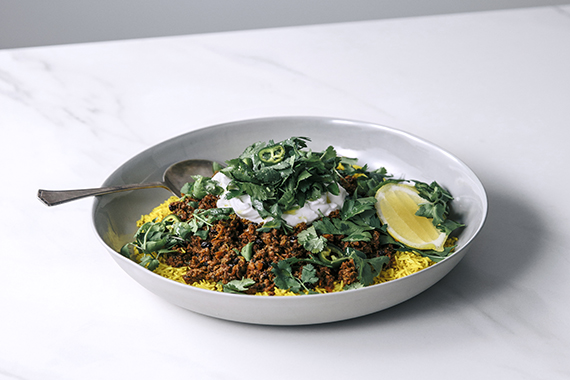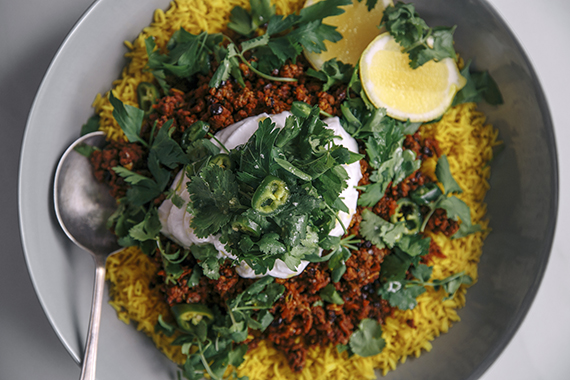 Method
Spiced lamb
1. Place a large fry pan onto medium heat, add the ghee, red onion, garlic, ginger and spices, saute for a few minutes on medium to low heat until the onion is soft and the spices are fragrant.
2. Add the grated carrot and saute until the carrot is soft, about 3-5 minutes. If the mixture seems a little dry, add a tablespoon or two of hot water.
3. Add the lamb mince and sautee on medium heat until the lamb is cooked through.
4. Add the parsley and coriander stalks, along with the tamari, currants, lemon zest and sea salt. Simmer on low heat for 10-15 minutes.
Turmeric rice
1. In a non stick pan, add the ghee, turmeric, black pepper and salt, and cook for 30-60 seconds, until the turmeric is fragrant.
2. Add the pre cooked rice and saute on low to medium heat until the rice is golden in colour form the turmeric and warmed through.

To serve
In a large serving bowl, or in individual serving bowls add the turmeric rice, top with the spiced lamb, a dollop of yoghurt, fresh coriander and parsley leaves, and some lemon wedges on the side. Enjoy!

INSPIRATION
Check this out